Thank you all so much for all your help and hard work!!!!!
I got to drive my new black Prius home and I am so excited!
YALL ARE THE BEST!!!!! XOXOXO
--Heather Redler--
10-10-15
07-31-15


Just a little note to say thanks, for all your help Jimmie. You and Dave have made a my dream come true. I cant believe I own that Harley sitting in my garage, lol. Y'all know have been wanting this Bike forever, and you made it happen. I told everybody in my squadron about you guys.

Thank you so much

Sgt. Drake Porter
Response: You are quite welcome Drake. It is what we do, lol !
24 JULY 15


-Nothing but praises to you and your people Dave. Jenny and Beth were patient and helpful thru the whole motorcycle loan processing. I will tell all my riding buddies about you and your service.

thanks again
Jayson Baylor
10/27/14

Thanks Dave and Jimmie for helping me get the Bike "I wanted". I was surely a different experience than working with a dealer. I will tell everybody about y'all.

thanks
Robert Machiavelli


Response:
Rob you are quite welcome, our pleasure.
Alicia
Hey Alicia.... I just want to thank you and say I love my Bike, thank you for sticking with me even when the guy was being a pain in the ass, it was a great Bday gift you and your team gave me, I will be sending more people your way,I only ride it through the neighbor hood until I get my tag in,he said you would call and I would swing by to grab it,by the way how long do you think it will take to get to y'all Lol? Sorry I'm still EXCITED ??. AGAIN THANK YOU ??
PAUL
07-01-2014

Hey Dave

I just wanted to let you I had finished up with Bill at the Lowcountry and My Wife and I are loving the Audi.

You a have a unique business and I know you help a lot of folks like myself, get finance with bad credit , but are you also able to get people finance with good credit that have limited income. If so I am referring my daughter to you.

Anyway, thanks for the help!

Kenny Oxford


Response:

Hey Ken absolutely! Please send her on.
We will give her the Red Carpet treatment!
And thank you for using our service!
Hi Dave and Jimmie.

I am enjoying my GSXR 1000. Thanks for going the extra mile to arrange the financing for me.. I have told a few of my Ft.Bragg comrades about your finance service they will be contacting Alicia to put an application for their bike loan.

I will be looking for a car real soon perhaps you all can help with the financing of that too.

thanks again,
Sgt. Wamble

06/19/14


Dear Mr. Dave,

Thanks bro, you are the best. It is amazing how someone far away can get me approved on a Motorcycle but no one get me finance here at home :o(

thanks Dave for you help

James Bryant

6-11-14

Hey Dave, just wanted let you know i am very grateful for all the hard work you put into getting me financed on my Bike. You went over and beyond for someone like me to get their dream bike. I not quite sure I could have spent so much time to help someone else like you did for me. Thank you for understanding my credit situation and taking it seriously.

friend for Life,
Mr. Dex Higgs
thanks
06/4/14


Thank you guys for helping me get my wife the Escalade she wanted. I did not believe you could get me approved for that much! That's awesome! Dave and Jimmy i owe y'all lunch, lol

Peace,

Torrent Beal
Very happy
Dave and Jimmie. I am very happy with my bike purchase, however I was not happy with having to take two trips to North Carolina to pick it up!

All in all, I am very satisfied with the way your company did what they say were going to do, was to get this old soldier finance. I have a few Army buddy's that will be calling you soon whom are in similar like situations such as myself.

Can't thank y'all enough guys.

Pete Devonshire
Good Job
4-12-14

Good Job Guys.....and thank you for helping me get the Hyabusa of my dreams. My girl loves it, but won't ride on it, go figure! Anyway thanks a bundle and I will send y'all some business.

-Mel Glascock
SFC is the best

Hi Dave, Altmesse here. I am writing you to tell u that you and your company employees are the Best!.
Everyone wants to drive my Altima, LMBO. I keep telling them to buy their own, i don't let anyone drive my Baby. I know have told you thanks so many times Dave, but I am going to say it one more time......THANK YOU!!!!
Your friend in Christ,

A. Chaney

Thanks Dave, for all of your staffs help. With out y'all I wouldn't be driving my Charger!

-La Bonham
Dear Dave ,

Thanks for helping get my Boat financed. It was a better interest rate than I expected.
Your assistance in arranging the loan with a major bank was superb.

thanks for all your help,

Ben Bryson
Mr. Dave, thank you for helping my wife get her Lexus and me for arranging the loan for my long awaited Harley! Shirley will not still ride on it and I told her was going to find me a young gal to ride on the back. As can expect that didnt go over to well, lol.

Any way thank you for all your help.

Matt
I am Happy
Dave and Alicia,

Thanks for making my Van happen. It is always nice for somebody to do what they say they're gonna do!
I know my credit will be better in the future and I will come back to purchase a New one.

thank y'all so much

Alanna Vernon
Special Thanks
Dave, I can't believe I am riding my bike. Man I went to so many places to purchase a bike before I came to you. I wasted a lot of time looking at bikes that the banks would not never ever consider approving me, but you got me done. To that I will always be grateful to you.

Special thanks to you Dave.

Jon Borelli


happy
Dave and Jimmie hats off to you guys.
You did what I thought would be impossible.
You showed there is creativity in work Motorcycle deals.
Thank you for getting us finance on my Victory where no others couldn't .
I will tell everybody about your service at work and at church about your service.

Your friend 4 Life
Sean and Jennifer

happy
Hey, Mr. Dave,

Matt and I are so much appreciative of your hard work you and your staff did to get us financed on the Caliber SUV.
.
It is so much more than I had imagined and you exceeded my expectations of dealing with a loan firm like yours, because there are always someone out there to take advantage with someone like us with less than perfect credit.

Mr. Dave, you were compassionate about our situation and we knew that you genuinely cared.

Thank you again and my friend Linda will be calling you soon!

Sincerely,

April Miller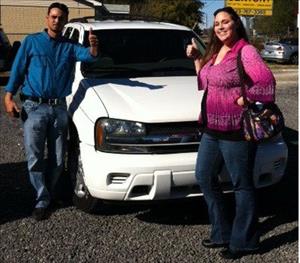 thanks Dave
Thank you and Jimmy for helping us out when no others could get us financed. We will recommend everybody to you all.

thanks again,

A. Googe
thanks
02-22-13

Dave, man I just picked up my GSXR 1000. This bike is Awesome! I couldn't have done with out you, I did not know we had to really go thru so many hoops for me to get a bike, Knowing I had bad credit you pulled it off. I will always be grateful to you Dave and your company.

Sincerely,

Alex Fuller


Response:

Alex, My pleasure.
You be careful out there.
I am so glad you are satisfied
Bring the Bike by so I may have the pleasure of checking it out!


Update: 7/2/13
Let's pay our respects to Alex Fuller who lost his life on the bike he loved to ride.
Our love, thoughts and prayers go out to his family.
You will truly be missed Alex, a fine person and hellava guy!

Sincerely,
Special Finance owner and staff














Big thanks
Mr. Dave, a Big THANKS to you and your staff for assisting me in getting the car I wanted to purchase not what the other dealers wanted me to buy! I am very please with your service and I am glad we found somebody like you to make it happen for us. My father was really impressed with you and he is very difficult to to deal with, as you just experienced. I will glad send some of my friends and co workers to you.

Thanks again Dave.

Eulonia Pinckney
thanks Special Finance
06/22/2012


Dave, First let me say it was a pleasure dealing with you. You are a professional in your field. How ever I donot think your girls were well trained for they were clueless to my wants and needs when i first got there. It wasn't until you stepped in that we began to make progress on my deal. thanks you!

Second, the dealer, Nick, at Deals for Wheels was a superb guy. He didn't act like a car salesman. He was polite and courteous. Thank you for referring me to him.

Last but not least, Dave you are the best. You knew my negative situation in credit and you turned it around to a positive. I cannot thank you enough for your help. A++++ my friend!

Sincerely,
Martin Fisher

Unbelieveable
I cannot say how grateful I am for you Dave and your company. Your people there are are so compassionate in what they do. I love my my bike and the Cindy loves it too.

I will recommend you to my friends and anyone I meet whom is looking to get a Motorcycle Financed.

Thanks,
Joe Castella

Thank you man!
Thank you Dave...... u da man!! I really did not think you could get me financed on this bike but u did, wow!

I am glad I listen to you and did exactly what you wanted me to, because it paid off!! You sure know your stuff Dealer Dave! Everybody love the Bike and they want financing too, lol Well thanks again and I will see you when I need a car or personal loan.,

Kyle :o)
Many Thanks
04/02/2012

Hi Dave,
First of all let me say that you have made a believer out of me! I am enjoying my Kawasaki & the warm weather.
Thank you for your understanding with all my credit issues and helping with me the loan process. I will definitely send others to use your service

Thanks again,
Max Brandon
Great transaction
Hey Dave thanks for all your help! Wle surley could not have done this deal with out you. I will recommend you to all the people we meet,

thanks Dave.
Tynika Holmes
Sorry, but thanks
Hey Dave, I am sorry we had to cancel the deal with you and your company. I know you and your staff put a lot of effort and work into getting us approved. However, we felt it was better to pay cash for the BMW instead of having to make payments. we know our credit is not the best and I cant believe that you did get us a loan for that BMW. I really didn't think you could. My Bankruptcy and both Repos will be off of my credit in march/ of 2012, I will comeback to you for my convertible. Thank you again and I will recommend to everyone!!!.
thank you again .


thanks a bundle
I apologize Dave,
Work has been crazy..have engineering board this week and been working butt off to get prepared..Would it be okay Dave if i came by there Friday on my lunch break to pay you? With me having to put down a little more down i had to use all my money and borrow rest from wife to pay for truckn if not then let me know . I appreciate all you've done (truly) and thanks alot for being patient and turning me on to a great reputable dealer.; I love my truck and it was a lot more truck than I had expected. thanks Dave!

So much thanks
Dave, it's now 45 days after the sale and the suv is great, but your service is even better. I called you this morning for the plate and registration, and you promised to pick them up tomorrow and bring them to my home. That alone was pretty impressive, but moments ago you called to say you already were here with the plate! Ten hours after we talked you have already hand delivered them to my door. That's service after the sale. You could have simply told me to pick them up tomorrow at your office, but you went the extra mile. You've made this entire experience a pleasure, and have done every last thing you promised to do, actually even more. I will recommend you to everyone I know, and you can count on seeing me when I'm ready for my next vehicle. Feel free to use this testimonial and use me as a reference.

Nice work Dave!
Good job Dave
Dave, I know You understand why I was very stand offish at first. I am from New York and it is hard to trust car dealers much less Car brokers. I must say you really went all out for Mary and I. I know we got a vehicle that was better than we both expected and you fought hard to get us an extended service warranty. Depending on how this VUE holds up in the next 30 days I will not recommend anyone to you right away, but for the most part you did good. My wife & I really appreciate the hard work and effort you and your staff went thru to get us financed.

Well thanks again.

T and M Prisant


Response: Ted coming from you I know exactly what you trying say and I know it hard for you to say it! .....You're welcome Ted! .....Dave:o)
WOW
Hello Dave, 07/11/11

Wow, It is hard to believe you guys got me finance. I was told by the other guys I was a bad risk and was not credit worthy. They made me feel substandard and so small. I was beginning to believe them until I started working with Robin. She made me feel so special. She made me feel like I was doing her a favor not the other way around. I am very please with your service and I tell everyone about you, especially Robin. I did go by the tire shop and I got to tires for my Saturn. It was great when you got John at the dealership to put tires on my SUV. I appreciate the fine gesture. Thank you again Robin & Dave:o)

Your friend.
Kimberly Vanholts



Response: You are welcome Kim, But you still owe me a referral! lol



thank you
Mr. Dave,

I cannot express my gratitude enough for what you and your company has done for me. You treated me like someone whom has had excellent credit.

Mr. Dave you gave me a 2nd chance to prove myself with my creditors and for that I will always be thankful. I will recommend as many clients to you.

I love my Camry and I love Special finance of Charleston!

Thank you,

Cloe Simons

Great deal!
Dear David,

Thank you for your patience. I am so glad you were able to get the dealer to hold the car for me. If it was not for you I would have not only would have lost a good deal, but a great Toyota Camry. Thank you for all your advice in helping me make the right decision. I will send all my friends and family to you.

I am very Satisfied,

Linda Edwards
thank you very much
01/25/11

Dear Dave, When comes to getting people financed you do know your stuff. In the beginning I was very hesitant because you were so confident in getting me an approval on this Tahoe and everyone else said I had to come up with more down payment to get financed. I am so glad you listened to my needs and did not try to switch me to another SUV like the big car dealers try to do so, I will recommend my friends to you and i hope to to do business with you and your company again! Thanks for everything.

Shawn Flanagan


Response: Shawn it was a pleasure my friend. I am glad I could help you out on the Chevy Tahoe. Dont forget to tel the guys at the Fire Station. B Smart and B safe!
Thank you!

Thanks Dave for all your efforts in getting my wife and I financed on a Suv. We are going to wait until we get more money to put down on something we really want with lower miles.

Now, that we know we can get financed we will definitely come back to you. I regret we could not work a deal, but you have a unique company and I am sure people like my wife and I could use such a service We will surely recommend others to you.

Thanks again and hope we can do business in the near future.

Jason Webb
Thank you Mr. Dave
Mr.Dave,

You did exactly what you said you were going to do and that was get us financed!
For that we are most grateful. As you know we went to some car lots, but were not treated fairly.
Unlike those dealers, you and your people treated us like we were important and acted like you all wanted our business.

I will definitely refer my friends to your company.

Thank you so much Mr.Dave,

Carolyn & Malik Baqi
Thank you Special Finance
I strongly believe if it wasn't for you and your staff I would not be riding in my New Altima now. You all work with me knowing I had less than perfect credit and helped me get financed. I cannot say how much i appreciate you Dave because it is beyond words. I will definitely let others know about your services and i will be coming in next week to purchase the GAP and Warranty.

Thank you,
Barbara Myers
A job well done fellows
Good day sir,
First I would like tell you I was very hesitant about coming to your company. I thought after meeting you David, you would not be able to help me. You reassured me that you could and I was very doubtful you could do what you claim.
I learned very quickly you would not going to rest until you conquered and over came my credit setbacks. I was impressed, no one has work harder to get me financed on a a vehicle like you and your office
personnel. I didn't really want $325 a month payments, but you were kind enough to have the lender to push the payment forward 22 days, which helped tremendously. I will definitely recommend Special Finance Of Charleston to everyone!


Sincerely,

Kenneth Williams


Response: Thanks Ken, I appreciate your comments and your business!....Dave:o)

great job
Hi Chris,
I would like to say you are a true professional. I really liked dealing with someone whom was genuinely concerned about my automobile needs and not just trying to make a commission. Your patients and knowledge allowed my wife and I to purchase the car we have been wanting for sometime now, and it is a feather in your cap. I will refer you to everyone I meet whom is looking for a car to be financed.

thanks Chris and God bless, The Copeland's.

Thank you so much
Dave thank you for your patience. You have help me tremendously. I know I have made the right decision now by using your company and services. I was very stand off at first, but I made the right choice to do business with you. I will be back to finance that warranty with you. I talked to my son and he said it is a wise choice to get it. Thanks for all your help and I hope next time I won't be so difficult to please.

Ralph Simmons

thanks
Dave, thanks for being so patient with us. We really appreciate what you got done for us on the Mustang GT. I know it wasn't easy but you and your staff know exactly how to get things done. You will be recommended highly! Thanks again, Caleb Lynch.

Dougs thanks
Dave,

Thanks for your help in getting the Jag. I'll be happy to refer others to you.

By the way, I got the carfax.

Doug
Thanks
Hi Dave, Don"t know what to say, but THANKS! I will tell everybody here at work about you and your program. I am loving my Lex!

Thanks again,
Dottie Holcomb

A world of thanks
Hello Dave, I cannot express the in words enough how my wife and I feel about you, your staff and your company in helping us get our Trailblazer financed . AAAAAAAAAA+++++++++ I think that says enough!

Thank you for all you done!
Peter Sampson
Violet Sampson

thanks a million
08/23/10


Dave, thanks for all your help. We really appreciate the extra mile you went to get us a 5speed manual Suv. I will send people to you and let them know what a great service you have in helping to buy and finance a car.

Thanks a million, We love you Dave!
Gwen Mercer



Response: You are welcome Gwen. Don't forget to come in next week to finance the Warranty!

thanks so much
Hi Derrick,
I can not say enough about your professionalism and knowledge about the finance business. You have not only made my daughter happy but you have saved my wife and I a lot of time and especially money, which makes us two happy. I will surely recommend you to others.

Thanks a million,
Theodore P. Evans

Thanks So Much
HI Dave,
Thank you for providing so much information about my warranty the other day. I didn't really realize I could get a warranty way after the year of purchasing my car! There is no problems with it, but I just want to say if anything should break or need fixing, I will have a piece of mind knowing it can be fixed without costing me the world. Thanks again Dave. Good luck in you special finance business!
Thanks,
Suzette Basquez

Very satisfied
I'm writing this to let everyone know how hard Dave and his staff worked to get me into this Mitsubishi Eclipse. They are professional and they know what they are doing. I highly recommend them to other s like myself, whom need help and understanding about this car business stuff. Thanks Dave and Michelle.
Thanks,
Warren Gillespie

I couldn't have done without ya!
05/11/10


Mr. Dave Thank you for everything you have done for me and my husband. We are surely grateful for what you did. I am loving my Cadillac and I haven't got the nerve to let Theodore drive it yet, but it is sure is a blessing from God that you helped us the way you did. Please keep in touch and I will definitely send you some business.

Thank you so much,
Alfreda Owens


Response: Mrs. Owens you are a sweetheart. thank you fro your Business!

I will surely tell people about yor service
05/03/10


I was skeptical at first when coming to an auto broker, i was soon put at ease once finding how simple it was. I told Mr. Dave what i was looking for and he began to research it right then. Four hours later we found the right dealer with the right deal and was I driving my diesel Chevy truck. I will recommend those special finance people at Mr. Dave's office to my friends and family. Oh yeah also to my church members. Keep up the good work.

thanks.
Randall Walker


Response; Thanks Randall. Let me when you are ready to the Wife her Cadillac CTS!

Great job guys
04/30/10

Hi Dave,
Thank you for the great job you and your staff did for me. I love my Mustang. I couldn't have found it with out ya'lls help. Thank you for helping me reestablish my credit. I feel like a new person with new credit.! I will recommend your service to my friends and co workers. I give your company an A+. Thanks again for all you've done.

Your friend for life,
Tammy Aldridge